The Melbourne eResearch Group and the Hunt Lab for Intelligence Research developed a crowd-based reasoning platform called SWARM as part of a US Intelligence (IARPA) funded CREATE program. This platform was recently used by 100+ academics across the Go8 Universities to analyse possible outcomes related to policy decisions in relaxing COVID-19 social distancing restrictions. The taskforce examined a range of questions ranging from rules for travel and border protection, preparations for reopening schools and businesses, special consideration for the elderly, rural residents, indigenous people, and citizens needing mental health support, and communications strategies to encourage public support and cooperation.
The image below shows Federal Minister for Health Greg Hunt (left) receiving the report from University of Melbourne Vice-Chancellor Professor Duncan Maskell (middle) and Dean of MDHS and Assistant Vice-Chancellor (Health) Professor Shitij Kapur (right), who co-chaired the Go8 taskforce.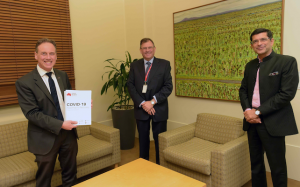 See https://go8.edu.au/research/roadmap-to-recovery for details of reports that were produced.